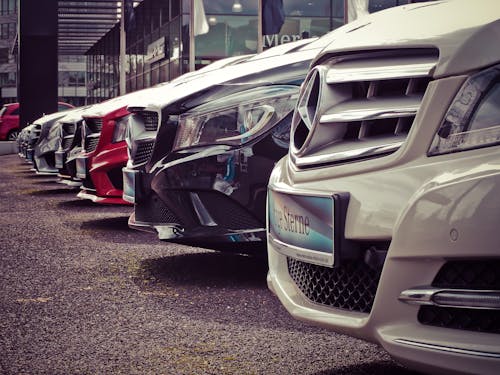 COMPANY VEHICLES- HOW TO MAKE THE MOST OUT OF YOUR FLEET.
As a fleet professional, it's important to pay great attention to all the areas that play a key role in your day-to-day operations, especially if your company has a lot of customers and offering an independent delivery service may be challenging. 
For example, the condition of your fleets may become overwhelming and unrewarding by the complexity of tasks they are required to address and if the right options are not implemented well enough, your company might run into a loss.
Keeping your company vehicles in good shape, productive and on the road is an important step to achieving your company's sales and service goals. So the golden question is: what can you do to make the most out of your fleet? Use the following tips to get your fleet running on maximum productivity.
SCHEDULE ROUTINE INSPECTION AND MAINTENANCE
One of the biggest problems fleet professionals face is vehicle damage. The need for vehicle air-conditioner repair or purchasing new tyres may suddenly arise. This could be as a result of poor routine inspection, overlooking tyre safety procedures, failure to perform full car service or part replacement procedures. It's common for parts like tyres, fan belts, knobs, gearbox , pumps, valves and all other moving parts to undergo wear and tear after prolonged use which will eventually need repair or replacement. 
Employing a regular pattern of oil change, tyre fitting, scheduled car tune up and brake changes are vital steps to be taken to reduce chances of vehicle break down. Another area of importance has to do with fleet containing vehicles past their optimum life cycle, if your company vehicles are in a similar situation, you may have to deal with high expenses as a result of mechanical failures or other related issues. Make it a priority to adopt effective maintenance practices and cycle out older vehicles when necessary, this will ensure a more productive fleet.
YOUR BRANDING PLAYS A ROLE
Your company vehicle serves as a moving advertisement for your company, so how your vehicles are displayed plays a huge impact on the impression received by potential customers. 
For instance, an eye-catching logo and adequate information that is fixed visibly on the side of your vehicle can easily draw the attention of potential customers and even help promote your brand's image. If you ever need to change your current design, knowing how to remove fleet wraps can come in very handy. Also, get a professional designer that will be able to create a memorable impression to your potential and current customers.
TAKE ADVANTAGE OF TELEMATICS
Telematics has brought a major improvement in the daily management of fleets. This technological innovation can provide real-time data regarding certain aspects of your company vehicles' movement. For example, it can be applied in tracking drivers, confirming they are driving at the right speed, identifying the location of stolen vehicles, and giving off alerts in case an accident occurs or vehicle breakdown. 
In addition, telematics has also provided a gateway into assessing data that can assist with vehicle maintenance, fuel management, vehicle scheduling, health and safety maintenance, it can even be used as a tool to confirm speed and location in case of an insurance claim when the dependency on data is crucial. 
Keeping track of drivers is an elementary aspect of telematics technology which provides a range of data that when analysed carefully, it can be converted into actionable concepts as a key to improving your fleet productivity while saving your business lots of money too. Drivers are able to perform tasks as efficiently as possible, which leads to a reduction in miles driven and fuel costs.
EXAMINE THE WHOLE LIFE COSTS OF VEHICLES THOROUGHLY
Most people prefer cars and vans for their business because they have the most affordable upfront price. But the key to deriving the best value in the long run is to take a closer look at the vehicles' long term running costs as well as other areas pertaining ownership and management of fleet. 
It doesn't stop at the price of purchase or the cost of monthly lease, you also have to consider  maintenance, devaluation, fuel costs and insurance during the period of ownership. When you carefully examine a vehicle's whole life, you will be able to make well informed decisions.
USE THE BEST SOFTWARE AVAILABLE 
Some advanced softwares are paving the way for a more effective fleet management by cutting down administration burdens, for example, the tasks involved in manually balancing fleet costs is greatly reduced through the use of a good software that carries out bulky calculations through effective data analysis. Also, using a software that manages fleet policy, costs and simultaneously demonstrates compliance will save you time and money. 
Other cases where some of these softwares can be applied include: keeping records of fuel usage, allowing mileage of vehicles to be automatically logged, enabling employees to implement general vehicle safety checks rather than making use of traditional paper forms that will end up being filed. By using the right software for your fleet management, your business productivity will increase and there will be less hassle to deal with.
Ensure Premium Insurance Coverage 
Having insurance coverage for all of the vehicles provides your company with the opportunity to improve the safety of employees, reduce the costs of insurance while benefiting from as much coverage required by your company. For instance, if theft or vehicle accident occurs, it could render a company useless as loss of revenue can instantly sum up and prevent the growth of the company. 
Having an insurance in place plays a key factor in getting the vehicle back on the road as soon as possible. Opt for group packages that offer maximum coverage including covering the cost of repairs and losses. Consult with an agent at your insurance company regarding the options that will provide maximum coverage.
THE BOTTOM LINE
Increase in fleet productivity is very achievable only when informed decisions are made regarding fleet management. No matter the size of your company, use the above tips to guide your  fleet management decisions.